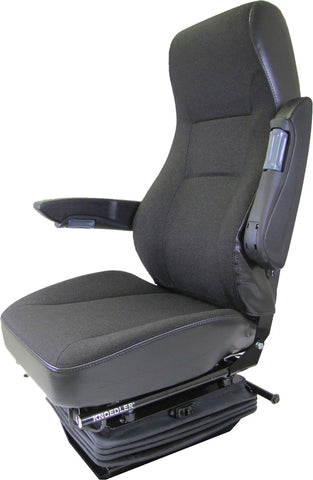 Knoedler Falcon Seat - High Back Adjustable Arms - Black Fabric
Standard Comfort Features:

19" Contoured seat cushions with ample foam and elastic "K"-webbing for a super soft ride.

Integrated side bolsters provide for additional support in back cushion

Dual density foam for long term comfort

Build-in ergonomic lumbar support

Infinite backrest angle adjustment

Poly-Dynamic Air-Suspension™ System - combines the isolator function (fore & aft suspension) with the air-suspension system (vertical suspension)

Improved performance as both directions of the suspension are coherently integrated and therefore work together.

Increased comfort:

As the ICP's (Inter Connecting Points) of the lower 2 Seats-Belt-points move with both the suspension and the isolation movement during normal operation. Therefore there is no relative movement of the seat belt in regards to the body. This drastically improves the seat belt wearing experience and gives the opportunity for full use of the seat belt system.

This system helps eliminate the "belt tightening effect" that is typical with "detached / separate" isolator mechanisms.
---
We Also Recommend
---